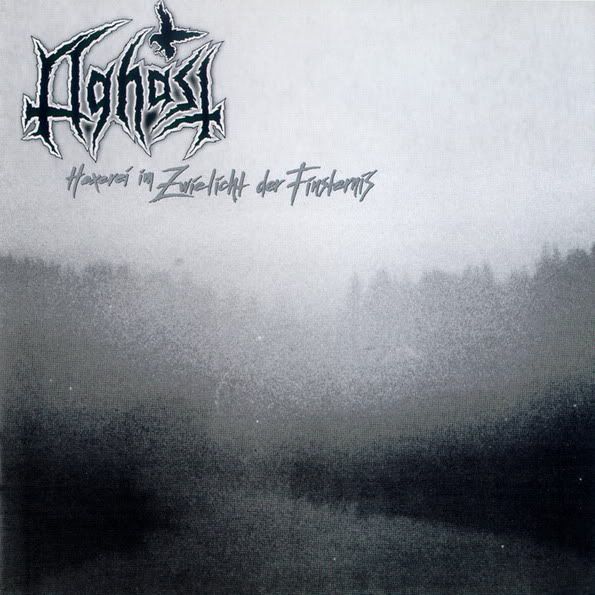 AGHAST - HEXEREI IM ZWIELICHT DER FINSTERNIS (1995)
Click here to Download the Entire Album!
Front Cover for the album:
"Hexerei Im Zwielicht Der Finsternis
"
By
Aghast
(c) 1995 by Cold Meat Industry, (c) 1996 by Morbid Noizz Productions, (c) 2009 by Eternal Price Productions.
"Hexerei Im Zwielicht Der Finsternis" -Rough Title Translation- "Witchery in the Twilight of the Darkness..."
Band: Aghast
Composer(s): Nacht, and Nebel
Year: 1995, 1996, 2009.
Type: (1995) - CD, Album, (1995) - LP, Pic, Ltd, (1996) - Cass, (2009) - CD, Album, RE,
Genre(s): Dark Ambient, Experimental, Dark Ambient, Clinical Ambient, Industrial, Abstract, Ritual Ambient,
Lyrical Themes
:
Death, Dead and Rotting, Graveyards, Tombs, Crypts,
Ritual Suicide, Dark and Moody Days, Coldness, Being Chilled to the bone, Lost in the middle of Winter, Witchcraft, Dark Rituals, Summoning Evilness, Sacrificial Arts, Wicca Religion, Walking along with the Devil.
Size: 59.5 MB
Country: (First made and Released in) NORWAY, (Released Second in) SWEDEN, (Released Third in) POLAND, (And Released Fourth in) RUSSIA.
Tracklist:
1.
Enthral
(1:36)
2.
Sacrifice
(5:38)
3.
Enter the Hall of Ice
(5:02)
4.
Call from the Grave
(6:04)
5.
Totentanz
(5:24)
6.
The Darkest Desire
(5:12)
7.
Das Irrlicht
(3:58)
8.
Ende
(3:34)