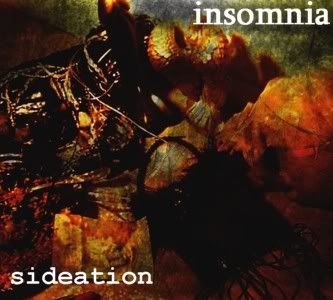 Hey, what's up guys? I hope you like the site so far; I'm gonna keep updating it on the weekends. Anyway, I decided to post another album by
SIDEATION
.
T

he title is called
Insomnia

,
and it's at least 4 years old! (2006)
"This music is like a uncanny surrealistic dream that has been tainted as if it were raw meat being hacked and fucked up by a pernicious Butcher inside a old diabolical shamble. The smell of blood, death, and decay are here, the cold eeriness like someone invisible to the naked eye is right behind you; licking their lips in sheer gut-wrenching ravenous hunger. This is what leads us to the gates of hell, and inside -- there is no return!" ~ Owen M. Davis
Does anyone know what the fuck that is on the album cover??? (o_O)
Sideation - insomnia (2006)
Genre(s): Noise, Death Industrial, Noise Industrial, Noise Ambient, Power Electronics, Power Noise
1.
Harpy
2.
Decay
3.
Machinist
4.
Televised Suicide
5.
Mourning

6.
Cyborg Poultry
7.
Mutter

8.
Radio Noise
9.
Queer
10.
Lowender
11.
Dandelo
12
Sprite

13.
insomnia
14.
interruption
15.
Ghoul
16.
redredred
Original Album description from
Taediumvitae:
"Experimental and moody landscapes filled with strange jagged edges. Restless and spastic energy but they remain stagnant and slow. Wastelands barren of all healthy life, but filled with miserable machines and sickly monsters"
*UPDATE*
Yes, I know the 2 links are screwed up... the ones for SIDEATION and TAEDIUMVITAE...
The website is currently down for unknown reasons...
It has been turned into one of those cheap-ass sucky all bogus advertisement-websites...
Hopefully the owner sees what has happened and proceeds replace the websites, or make new ones... :)
P.S. As you can see I thought it was kinda dumb to not post all of the tracks onto here.. for everyone to listen to... so there you go. :D