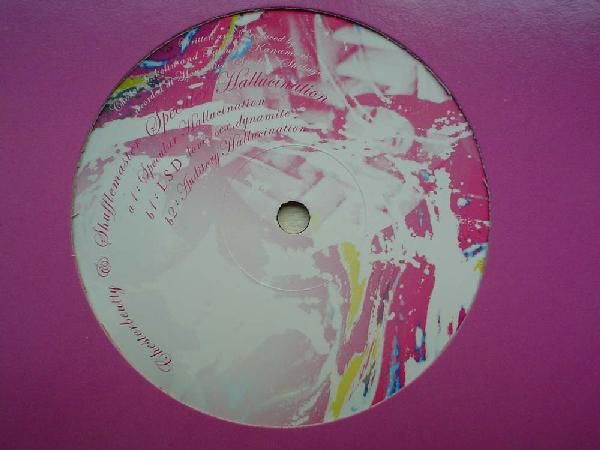 Country: UK, Japan
Genre: Psychedelic Techno, Minimal
Length: 17 Minutes
Released: 2002
Download:
*REVIEWS*
1
. Review by MrFonktrain (December 19th, 2002)
"Specular Hallucination" is a real evil one that possibly makes you afraid of the dark
But "Love Sex Dynamite" is probably the happiest and driving techno track I have ever heard. Probably sampling Chic - I want your love (or something similar) this crazy masterpiece brings together hard, driving techno percussions, a devastating bass and the funky feeling of Studio 54 through a filter and loop-orgy in the tradition of Thomas Bangalter. Really sounds like disco on too much speed... but it's the best stuff I've ever had up my nose and my ears! ;)
2
. Review (
I wrote this
) by owennoreen (August 18th, 2012)
This is one of my all-time favorite albums and I am so proud to own this on amazing vinyl that has a multicolored plastic print on top and along with a pretty pink sleeve, for it is definitely one of my most prized and cherished possessions. Chester Beatty and DJ Shufflemaster truly deliver a sensual, psychedelic, and mind-blowing performance on "Specular Hallucination" that should not be missed.
The album starts off with the self-titled track, Specular Hallucination, it begins with these smooth, well-constructed techno beats and even more beats that yet fit perfectly and eventually it all comes together with a crazy, wavy synth and ghostly, indiscernible vocals that truly set the haunting mood and three minutes into the song, comes along another ghastly synth that sounds like the drugs someone slipped you are starting to take effect, only this time, it comes back with vengeance.
The 2nd track, "Love Sex Dynamite" begins with the rhythm and sound quickly speeding up from the bottom, as it gets louder and louder and more clearer, the wave of sound becoming more dense and thick as it filters through your ears. Every now and then, the rhythm and melody suddenly shifts and changes with a beautiful driving synth and before you know it, you are engulfed in an psychedelic orgy of extraordinary sound and an unbelievable bass that is literally just to die for.
The third and final track "Auditory Hallucination" is by far one of the best Shufflemaster tracks I have ever heard. It begins with a combo of classic, unforgettable (and in a way, very evil) beats and more incomprehensible vocals that soon drastically undergo vicissitude and soon enough, they increase the tension of the song by adding marvelous hi-hats that are right on cue with the beats. "Auditory Hallucination" is just simply one of those songs where the rhythm and the sound gets under your skin, pulsates and goes into the core of your inner psyche, travels up to your brain and makes you want to lose control and start dancing.
An Utter Masterpiece.
Hands Down.