Here's a little something special for you guys: A very extraordinary release by
Lull
, a dark ambient project created by
Mick Harris
, who was also the Drummer for the Band
Napalm Death
. This album is possibly one of the greatest examples of spine-chilling, dark, and harrowing ambient music. The album is called,
Time Box EP
.
It was released in the
U.K.
in
1995
(One year before I was born) by
Aquese Recordings
, and was a limited edition on two 7" pieces if Vinyl. One version was that it came in a numbered, and spray-painted box (in which very few were produced.) The spray-painted box in the mail-order was only limited to a total of
39 copies
.The other version of this album was that it came in a cardboard wallet, and this version was limited to a total of
500 copies
. Both versions come with an eight-paged booklet; the track names are etched out in "run-out grooves".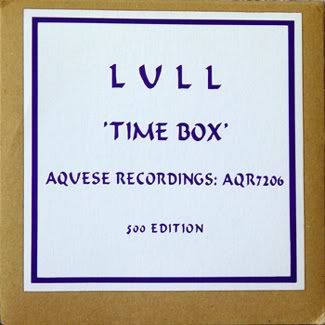 (
Please note that according to the album page on Discogs.com, for each song from this rip, there are at least 10 - 20 seconds off. I don't know why it's like this but whatever. I'm guessing that those 20 seconds were just very, very low droning or silence/static.
)
A. Lull Not Null (6:11)
AA. We Aim To Please (7:03)
AAA. No Messages, Nope, Never... (6:07)
AAAA.
.... (6:43)

Download
*(Please, please tell me if the link is not working or has been removed, or if the file is corrupted. I will try my best to fix it or also reupload it again. Thanks!! =)